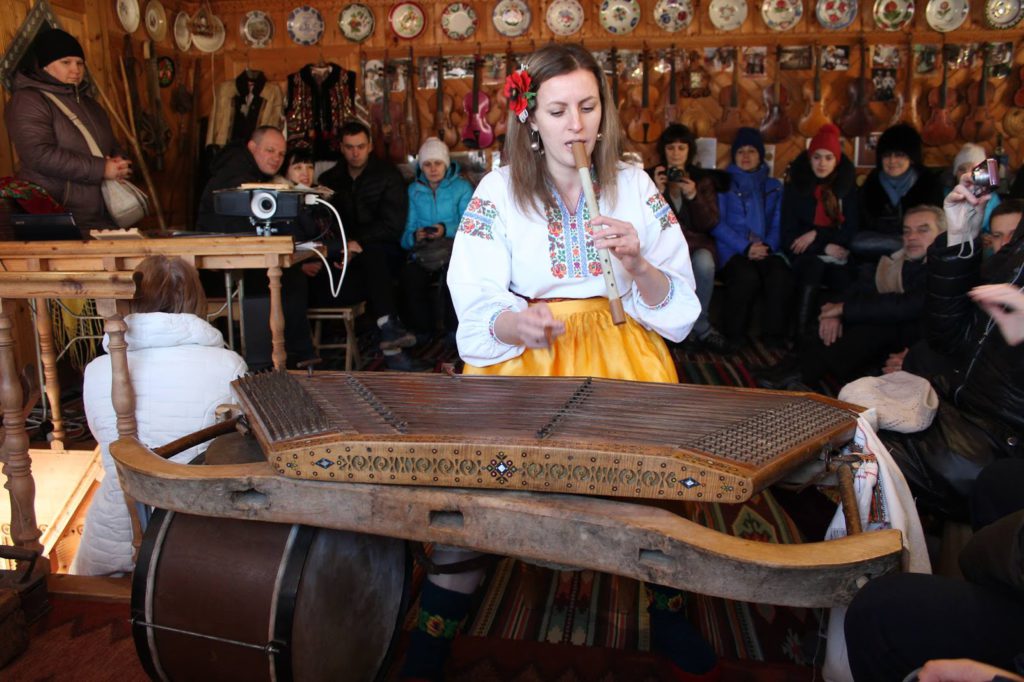 Our next points of interest were the museums of Verkhovyna. The first museum was the Museum of Music by Roman Kumlyk (a virtuoso musician who could play 50 musical instruments). It is a museum not only of music, but also the museum ofHutsul region ethnography. Hutsul clothing, household items and musical instruments are stored here.
Unfortunately, Mr. Roman Kumlyk is no longer alive, but his daughter continued the tradition of welcoming tourists at the museum, and she also demonstrates a virtuoso playing 18 musical instruments and expressively tells about the hutsul customs and traditions.
Usually you are forbidden to touch the exhibits in the museums, but here everyone could try to play any musical instrument and, accordingly, feel like real Hutsuls.
And Nick dared to play the trembita, and he did it well, although it was not easy.
Then we visited the House-Museum "Shadows of Forgotten Ancestors". The Armenian film maker Serhiy Paradzhanov lived in this house. He made the film "Shadows of Forgotten Ancestors" based on the story of the  same name, written by the Ukrainian writer Mykhailo Kotsyubynsky.
Here we promised ourselves that we would definitely watch this movie at home.
On the same day we visited a Hutsul house, where we had a master class on making Ukrainian brynza cheese and even tasted it.
At the end of our excursion program we visited the local private brewery "Verkhovyna", where we bought a bottle of beer.
Author (c): Irene Melnyk
Photos (c): Nick Melnyk